HydraFacial Las Vegas
The HydraFacial Treatment is a luxury beauty treatment that can be enjoyed at Chic la Vie Med Spa in Las Vegas, Nevada. This treatment is perfect for those who are looking for a luxurious pampering skin care treatment, as it is a stress-free and relaxing experience that is perfect for your vacation. Chic la Vie Med Spa provides a variety of salon services, including facial skincare and anti-aging treatments.
HydraFacial Syndeo
Rejuvenate your skin like never before with this revolutionary skincare treatment. HydraFacial Syndeo is one of the most innovative, rejuvenation treatments available.
HydraFacial is the only hydradermabrasion procedure that combines cleansing, exfoliation, extraction, hydration and antioxidant protection simultaneously, resulting in clearer, more beautiful skin with no discomfort or downtime.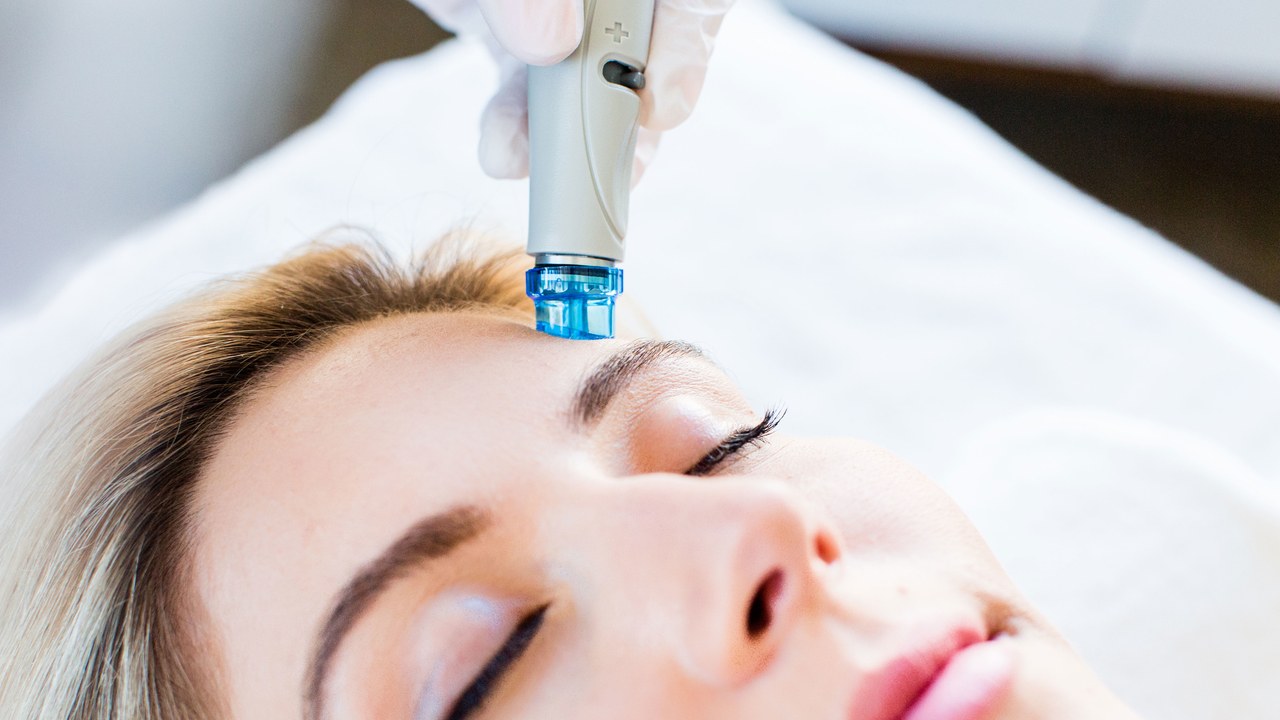 Premiere Facials in Las Vegas
HOW DOES IT WORK?
Your skin is unique, so your HydraFacial Syndeo procedure should be unique as well. Using the Vortex-Fusion® multi-step treatment process is unlike any other procedure. It can be custom-tailored to address your specific skin problems. 
Hydrafacial's 4-in-1 technology exfoliates, rejuvenates, improves acne and hydrates skin. It removes dead skin cells and extracts impurities while cleansing, hydrating and moisturizing.  
The 4-step technology consists of:
Vortex-Exfoliation™ uses Activ-4™ serum to extract impurities and dead skin cells, uncovering healthy skin.

Vortex

–

Peel uses 

GlySal

peel solution that combines glycolic and salicylic acids to give you the benefits of a peel without post-peel scaling. The peel hydrates the skin by using a nutrient-rich solution. The solution deeply penetrates the pores of the skin to gently remove impurities while also softening the skin.

Vortex-Extraction™ is a patented, painless process that uses Beta-HD™ serum to cleanse pores. The nozzle rapidly circulates the liquid that when applied to the skin. Then the nozzle acts as a vacuum to eliminate blemishes like blackheads, whiteheads and clogged pores for completely painless and instantaneous extractions.

Vortex-Fusion™ 

Antiox

+™ serum infuses hydrating skin solutions and serums containing antioxidants, peptides, and hyaluronic acids into the skin.
We all have different skin types and, therefore, different skin needs. The HydraFacial Syndeo procedure is the answer to bring out the best in your skin by using the customizable collection of non-invasive Vortex-Fusion® skin treatments. The immediate and long-term result is skin that looks and feels renewed and reinvigorated with no irritation or downtime.
This procedure is an excellent choice to address: 
Fine Lines and Wrinkles

Elasticity & Firmness

Skin Tone Evenness & Vibrancy

Skin Texture

Hyperpigmentation/Photo Damage

Oily/Congested Skin

Enlarged Pores

Advanced Signs of Aging
What to Expect from HydraFacial Treatment
What makes HydraFacial different from other facials is our aestheticians' ability to treat a number of skin concerns in the same treatment. While using the special VortexFusion™ applicator, we are able to evenly apply specially formulated solutions to your skin, thoroughly cleanse and remove impurities, and provide intense hydration for immediate and long-lasting results.
What are the benefits of a Hydrafacial?
A Hydrafacial is a type of facial that uses a special device to deeply cleanse, exfoliate, and hydrate the skin. The Hydrafacial device uses a small, hand-held device that uses a rotating brush to deeply cleanse the pores and remove any dirt, oil, or makeup that may be clogging them. It also uses a small suction device to remove any dead skin cells or other debris that may be on the surface of the skin.
How long does a Hydrafacial take?
Hydrafacial treatment can take anywhere from 30 minutes to an hour, depending on the person's skin type and the extent of the treatment.
Is Hydrafacial right for me?
If you are looking for a way to deeply cleanse and hydrate your skin, then a Hydrafacial may be right for you. This treatment is ideal for those who have oily or combination skin, as it can help to control sebum production and reduce the appearance of pores. It is also a good choice for those who are looking to improve the overall appearance of their skin, as it can help to reduce the appearance of fine lines and wrinkles.
What are the risks of Hydrafacial?
There are several potential risks associated with Hydrafacials, although most are minor and temporary. These include:
Redness or irritation of the skin

Swelling or bruising of the skin

A feeling of tightness or tingling of the skin

Dryness of the skin

Peeling of the skin

Acne breakouts
If you're looking for the best HydraFacial Syndeo treatment in Las Vegas, look no further than Chic la Vie Med Spa. We offer a variety of treatments to help you achieve healthy, beautiful skin. Contact us today to schedule your appointment!