Botox For Men Las Vegas
Botox For Men

Beyond Brotox Las Vegas
Brotox Treament Las Vegas
Gone are the days that med spas are just for the ladies! Guys want healthy and rejuvenated skin too. I like to say "SKIN IS IN" regardless of age, gender, or trends–SKIN IS IN! Our med spa has a luxe gender neutral vibe that allows our male clientele to feel pampered and comfortable at Chic La Vie Med Spa.
On our esthetician side of the practice we offer a variety of services that are applicable to the skincare needs of our male clientele (just as much as it applies to the female demographic). Just to name a few common concerns to be addressed: skin tightening, hyperpigmentation due to sun damage, skin textural concerns, scars, hair loss, and hair removal. We have a variety of modalities to help put your best face forward: Hydrafacial, chemical peels, Tribella, Venus Viva, IPL and Venus Versa, Fraxel Dual Laser, and Cutera Excel V, Laser Genesis, and Ultherapy. Body Procedures include: Coolsculpting, Venus Freeze, laser hair removal, and laser scar treatment. Hair procedures include: PRP hair restoration, and NeoGraft hair transplant. We can guide you in developing a customized treatment plan based on your concerns and goals.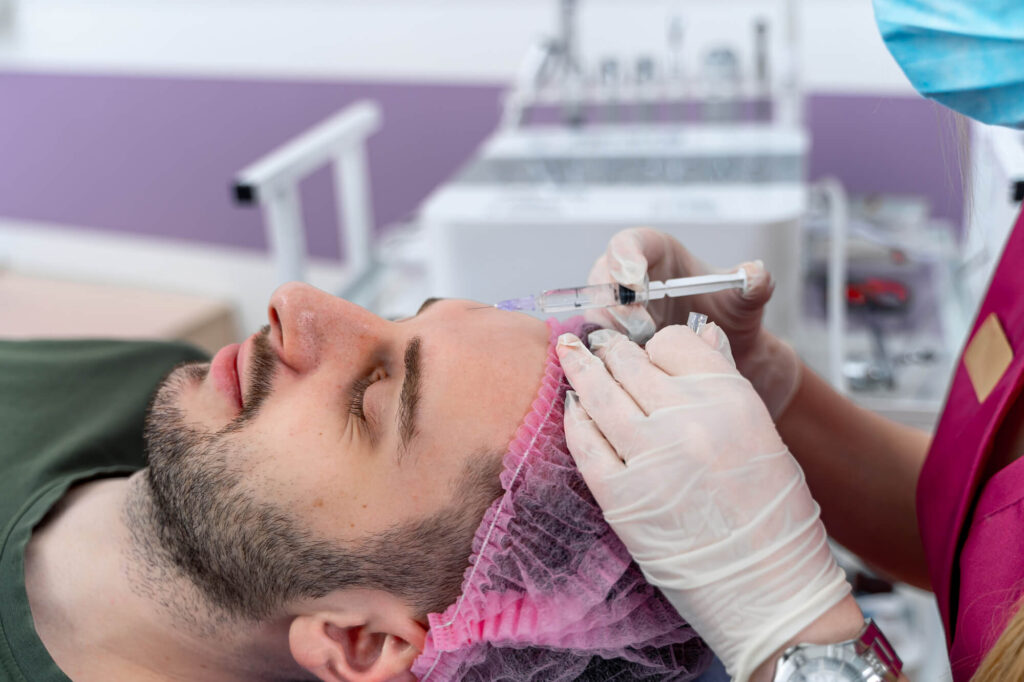 On the cosmetic injectables side of the practice we can minimize fine lines and wrinkles using neuromodulators like: Botox, Dysport, and Xeomin. Don't be discouraged by the needles guys! Neuromodulators use a tiny insulin syringe needle that makes it quite comfortable and totally bearable for a matter of a few minutes of superficial and quick needle pokes. As far as fillers go for the gentlemen, if you are looking to build a more prominent and angular jaw line, or if you want to diminish the under eye baggage to appear less tired and more refreshed, we can help you with that.
I think some men need a little gentle guidance when it comes to skincare. The average guy doesn't know what his skin type is, and what products and med spa procedures will serve him best to achieve his goals. We can help by customizing a simple and effective plan that will give you that rejuvenated appearance, so you can put your best face (and body) forward whether it be on the golf course or in the workplace.
For more information on how https://chiclavie.com/ can help you with Brotox, please contact us (702)-233-8535, or visit us here:
7650 W Sahara Ave suite 3, Las Vegas, NV 89117