RADIESSE® INJECTIONS FROM CHIC LA VIE MED SPA
Are you tired of those deep wrinkles and lines around your nose and mouth?  How about hands that look much older than you really are? At Chic la Vie Med Spa in Las Vegas, we have a solution for you, and it is called Radiesse®
WHAT IS RADIESSE®?
Radiesse® is an injectable dermal filler made of a naturally occurring substance in the body called calcium hydroxyapatite, which is similar to the calcium found in your teeth and bones, suspended in a gel. Upon injection, Radiesse® immediately fills up targeted areas, for instant results, then as the gel is absorbed by your body, it leaves behind microspheres of CaHA, which act as a scaffold to support your skin's weakened structure and promote the growth of new collagen.
Over a span of 2 to 3 years, the CaHA particles completely metabolize while new collagen grows in its place. Radiesse restores a more youthful appearance to the face and hands (particularly good at this). In addition, it improves sagging facial soft tissue and deep nasolabial folds by replenishing lost volume primarily in the cheek area. Additionally, it stimulates collagen production for gradual improvement over a period of one to three months. Final results can last up to one year.
WHAT ARE DERMAL FILLERS?
Dermal fillers are a group of non-toxic substances that can be injected under the skin at various depths to help improve the appearance of fine lines, deep wrinkles, nasolabial folds, and acne scars on patients. Dermal fillers also help increase the volume of, and define lips, contour the chin and nose, or plump up sunken cheeks or temples for a full, lifted appearance following the injections.
These gel-like substances have been used for decades to help improve the overall appearance of the face and are considered safe and effective in treating a number of cosmetic conditions.
HOW DOES RADIESSE® WORK?

WHAT ARE THE BENEFITS OF RADIESSE?
Each patient here at Chic la Vie Med Spa in Las Vegas experience different results. A dose in one woman can result in a dramatic change, while it may have a very minimal impact on someone else. The effects of a Radiesse injection can be seen immediately, with continuous correction as new collagen regenerates.  The area of injection appears smoother and fuller, with more volume and definition than before receiving the treatments.
AM I A CANDIDATE FOR RADIESSE®?
We are often asked by patients if they are a candidate for Radiesse treatments!  Injections of Radiesse will provide results on all skin types and skin colors, but are ideal for those seeking to add significant volume, smooth deeper lines and folds, and plump areas with moderate to deep skin depression or fat loss. It is also used as a hand rejuvenation treatment.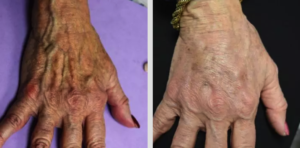 ARE THERE ANY SIDE-EFFECTS?
Like other cosmetic treatments, Radiesse injections may lead to temporary redness, tenderness, swelling, and bruising at the injection site. You may be apply makeup to help cover up any redness. If you do experience redness or swelling it typcially takes 3 to 7 days for effects to completely resolve.  In rare cases, small bumps may appear under the skin at the injection site. If they don't dissipate within a week, check back with our office.
Women who are pregnant or breastfeeding should not use dermal fillers. Anyone who has recently used blood thinners or has a bleeding disorder should also avoid dermal fillers. You should be cautious if you've had previous bad allergic reactions that have required in-hospital treatment.
For More Information on the Radiesse Injections Please Call Us Today at (702) 233-8535, Or Through Our Contact Form.